Digests
We all get too much email and being part of a busy email list can only make that worse. Gaggle Mail lets you decide when you receive messages from the lists you're part of. On your member's management page you can choose from three options about when messages are sent.
Immediately

All messages sent to the group are immediately sent on to you.

Daily digest

Holds all messages sent to the group and once a day sends you a digest email.

Pause all messages

Stops sending you messages indefinitely but you will still remain a member of the group.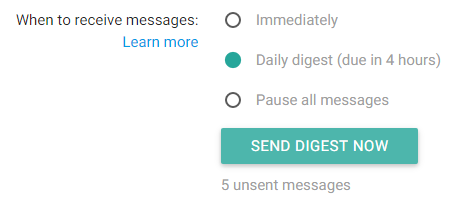 As well as this there's a "Send Digest Now" button which sends you a digest of all messages queued up. Digest emails contain the subject, sender and a text snippet of the content of the message as well as a link to view the original message online.
This feature gives you more flexibility about how and when you receive emails, allowing you to remain part of an active group without becoming overwhelmed.